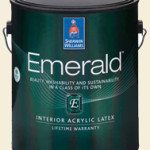 We want to hear from you!
Have you tried the Sherwin Williams Interior Emerald?
Leave  a review below.
For more information, see Tommy's Review
Emerald
★★★★★
"
I was given the opportunity by my local Sherwin-Williams store to try Emerald for painting the exterior posts of a new home. I used the gloss white, and was very pleased with the results.\r\n\r\nThe paint was a perfect consistency, and went on very smooth over the primer. Since these posts were never painted before, I was concerned about coverage. However, the paint went on great and dried to a beautiful finish. I probably could have left it at one coat because it covered so well, but I went ahead and did a second coat anyway, since I always do.\r\n\r\nThe paint leveled out nicely, and had very few brush marks, and dried to a really nice sheen. It is very different from the duration line and some of the associated issues I have had. I recently painted an exterior with Duration gloss, and experienced clogging in the sprayer, poor coverage, and clumps and skin forming, which I did not experience at all with Emerald. I already spoke to my rep about switching to use only Emerald, as I was so pleased with the product. The builder and new homeowner also remarked on the beautiful finish.\r\n
"
Interior Emerald
★★★☆☆
"
I just finished a 1200sqft condo with Emerald. I am typically a Benjamin Moore guy, but the designer in this case wanted SW which was fine with me as I thought this would give me a chance to try Emerald. \r\n\r\nThe colour was White Raisin (yellow) eggshell over dark beige. Tough combo. \r\n\r\nEmerald did well. Did not blow me away in any way specific. \r\n\r\nFelt nice off the roller and brush on the first coat....feels almost like BM Super Spec (oh my!) on the second coat. That dry pull cutting in. \r\n\r\nCoverage was good, but at this time I have to bring up price....coverage was good, but for $53 CDN (on sale) a gallon?...can\\\'t help but feel slightly under whelmed with coverage on this colour. We left it at two coats, but a third could have been justified, by my eye...(not the customers)\r\n\r\nAn accent wall was Garden Sage (green) and of course it covered beautifully in two. \r\n\r\nSheen was nice. I\\\'m confused why SW plays with sheens. No eggshell...just satin??\r\n\r\nNice paint, but I think its impossible to talk about Emerald and not talk about price. \r\n\r\nIn the future I\\\'ll stick with my personal interior favourites. \r\n
"
SW Emerald
★★★★★
"
Emerald is a fantastic paint. I tried it when SW first brought it out and promoted it for their contractors. I had a unique opportunity to test it in a room where each wall was a different colour and was in a different condition. 2 walls were dark and 2 were light. One wall had graffiti on it and another had a lot of damage and drywall repair. The paint went on exactly the same over each wall! The hide and coverage were beyond compare. Since SW first offered it at a special price , I stocked up with 25 cans. Some matte, some satin and some semigloss. I will admit that after my 25 cans were depleted, I didn\\\'t purchase any more because when it is not discounted it is too expensive. I just can\\\'t justify paying over $50 per gallon. If I could get this paint at $40 per gallon, it would be my go to brand for sure!
"
Emerald
★★★★★
"
Been using it on doors and trim and really like the coverage and hide, levels very nicely when sprayed.
"
SW Emerald Interior Semigloss
★☆☆☆☆
"
I\\\'ve only used a few gallons on one job and I was very disappointed with results. colors used were a match from Benjamin Moore. AF-45 Collector\\\'s Item and 2065-10 Admiral Blue.\r\n\r\nI\\\'ve never done more than 2 coats to achieve proper color representation and film thickness. It took 3 coats and I still wasn\\\'t very pleased with the results. I have used their New ProMar 200 Zero VOC with great results at a much lower price. I will never use SW Emerald again. \r\n\r\nIt\\\'s hard to believe Sherwin Williams doesn\\\'t have a premium paint to even compete with Regal Select. I haven\\\'t tried their exterior version but I don\\\'t think it\\\'ll be better than BM Moorgard/Regal Select. definitely nothing close to Benjamin Moore Aura like they claim.
"
Emerald Interior Matte
★★★☆☆
"
I painted 2 rooms in my own house using Emerald on the walls, office and master bedroom. I did 2 coats of Luxurious Red over Luxurious Red and although it went on nice and looks good I just can\\\'t justify the price. If I thought it would save time and labor I could but it didn\\\'t and won\\\'t. I painted the rest of my walls using Cashmere and to me at half the price I\\\'ll stick with the Cashmere. I\\\'m still going to try Emerald on an exterior to see how it compares with Duration, the product we always use.
"
-
Painting Services By Steve
Absolute Zero VOC
★★★★★
"
I painted a baby\\\'s bedroom with Emerald. The client was sold on what I called \\\"no smelly stuff\\\" in the paint that would harm the child. It covers well, and it cleans up so easily. The most frustrating part for painters, especially the DIY painters, is the prep and cleanup. Emerald is awesome.
"
Emerald Exterior Paint
★★★★☆
"
I would have given 5 stars but i wont know how Emerald holds up for a few years. The more we use it the more we like it! Brush, Roll, Spray so far its been a pleasure to work with. Yes the price needs to come down no paint is worth $60 dollars a gallon. With that being said give it a try we did and will be using it again and again.
"
-
nick dunse/THINKPAINTING
Emerald Exterior Paing
★★★★★
"
Just finished painting my third house (cabin actually) with emerald and the results were fantastic. Used a 517 with a graco395 and sprayed the coating un-thinned over a primed and prepped exterior. The results were A+ and I used far less paint then I expected while putting on 2 fairly heavy coats. It turned out to be very economically feasible as I used much less Emerald versus regular exterior paints. Takes a little getting used to but once dialed in the results are 5 star.
"
-
Scott Smith-Indian Peaks Painting, Colorado
Emerald from SW
★★★★★
"
Emerald is very easy to clean, check out this video for details! http://youtu.be/9gnW85ZksP8
"
Emerald Interior
★★★★☆
"
I thought it was very good, but it didn\\\'t seem to get the square footage per gallon I expected
"
Not happy
★☆☆☆☆
"
I bought this paint on the recommendation of the salesman at our local SW store. $62 a gallon being very pricey, I thought it would be a simpler easier project...not so! I was only covering a beige flat latex with Emerald matte in a blue color. After three coats I am still seeing color variations and spots. It is not the prep, there were no issues there, it is the paint. I would not recommend this paint at all.
"
Disappointing
★☆☆☆☆
"
Emerald paint application was challenging. We are a family of painters by trade and have painted countless times. But the coverage of this paint is poor. We typically use Benjamin Moore (still our favourite paint company) but this time wanted some new colors based on the ones we have seen on the houze app. Cannot judge other types from this company, but I think we are going back to what we know works well. Completely over priced for what you get.
"
Best Paint I've ever used
★★★★★
"
I find it funny reading all these results and wondering how a moron could give this paint a low rating. This paint is the best paint I've ever used. Coverage is great. Levels nicely. The finish is incredible. You can wash it, scrub it. Got everything done in one coat. Anyone who submitted a low rating is an idiot who clearly just can't paint and shouldn't paint.
"
Homemaker
★★☆☆☆
"
I was disappointed in the paint as the coverage was poor. Painted over a white wall and can see uneven areas plus shadows after it dried so need to do another coat. Color was good and paint did not drip. The paint is expensive and should have better coverage.
"
Peeling paint, poor coverage, smells bad
★☆☆☆☆
"
We have used Sherwin Williams Duration paint before so we are new to this Emerald series, which is supposed to be the best and most expensive. Extremely unhappy with the paint as the coverage is very bad(the light colored previous wall color shows through). Pain started peeling near the baseboards within few hours and the painters had to rip it open and redo it and its not low VOC and it reeks of strong smell, almost like ammonia. One extremely unhappy customer!
"
Great product. 49$/g
★★★★☆
"
I would give 5 stars if the price would be around 40$/g. Great coverage. Easy cut and roll. 54$ with tax it's too pricey to me.
"
Steaking
★☆☆☆☆
"
This is my first and last with using sw emerald paint. On the third coat I am seeing a lot of streaking. Very disappointed to say the least. the local store wanted to blame applicator and not selecting proper rollers
"
emerald exterior gl
★☆☆☆☆
"
This is the worst experience painting I have ever had. The paint is very temp.sensitive. does not level like claims. 200 sq. Ft per gal are you kidding me. For 75.00 gal retail. You are talking 150.00 to do the same as most any other products on the market. Can't spread it like others so you can't make good time. Save a headache and a bunch of cash go with super paint or resilience.
"
Egg coloring
★☆☆☆☆
"
I put a lot of work into a wall for contrast. I have painted for many years . I truly believe that Emerald paint is for egg coloring. One good thing is easy cleanup. Cleans like rinsing water colors. Worst nightmare ever in all my years of painting.
"
Good looking, durable finish. Low workability time.
★★★★☆
"
Pros: Matte gave a really nice looking finish quality. Finish seems hard, durable, and very scrubable. Excellent adhesion! Used the Satin over semi-gloss and stuck like crazy with no sanding of old paint. Could not scrape it off even after a couple hours. Semi-gloss also has excellent adhesion over old semi-gloss, again without sanding. The semi-gloss seems to have a softer, more rubbery feel than the matte did once cured, as per the fingernail press test. Cons: Biggest downside by far was a VERY short window of workability. All three finshes dry very quickly! You need to be very careful about rolling or brushing finishing strokes - more than about 3 minutes and it's already tacky and will not be wet-workable. Roll over after that and you've messed up the finish quality badly! Cleanup can also be a real pain. If it's on your hands for 5 minutes, you already have to use a scrub pad, or alcohol or acetone. Water and soap will not clean it off in that very short time.
"
-
Sherwin Williams Emerald - Matte, Satin, & Semi-Gloss
Terrible
★☆☆☆☆
"
This paint is absolutely terrible! I have just put on the 4th coat and the old color is streaking through!!! Very disappointed!!!! This was a waste of my time!!!
"
-
Sherwin Williams Emeral- Satin
s***** pain
★☆☆☆☆
"
I'm a professional painter we spray A three tone for the first time with emerald the baseboard peeled the ceiling peeled the walls peeled and had a really strong older could not be in the house without a mask and then still had to open windows in every room after I was done un masking major major pain in my ass will never use it again and it took three coats of primer and three coats of emerald before it actually looks halfway decent
"
You Must Be Kidding! Awful!
★★☆☆☆
"
I'm a retired union painter and have used every type of paint you can imagine from latex flat to epoxy on large commercial jobs like NASA, and military government bases. I've also done a lot of new home construction. I purchased this paint since I decided to start painting a bedroom on a Sunday afternoon and the store is much closer than the Benjamin Moore store 25 miles away that I have been a patron of for over 25 years. Big mistake! I used two colors: One on an accent wall, and another on the rest. The accent wall is painted a dark navy, and the rest a creamy beige/gold. The main area paint went on well over a medium shade of taupe requiring only one coat. It has no visible sheen, no roller marks, brush marks, etc.. When I started the navy accent wall, the paint seemed very thin, and wasn't covering well at all. I had to go and buy more today since it didn't cover well, and spoke about it to the manager. He suggested their brand of polyester roller cover even though I had used the same thing in Wooster brand. I took the bait, and bought it. It really did help the application, but once the second coat dried you could see shiny roller marks, and very visible brush marks in the corners and everywhere else I cut in even though I was using a brand new Purdy brush meant for this type of paint. Needless to say I'm not happy this small job has turned into a 3 day project since tomorrow I will either roll on another coat, or give up and go back for a can of flat, depending on what the manager says when I call in the morning. Seriously, I have used Behr paint for customers who supplied their own that out performed this by a long shot. Next time I'll just wait until I can get to my regular BM store. With all of the driving back and forth to SW I'm doing, I've probably put on more miles than I would have going to BM. Not to mention all of my wasted time. What an ordeal. Lesson learned. I'm giving this product two stars based on the coverage on the taupe walls. I didn't think the cleanup was all that great. It really dries and sticks hard to even a plastic roller pan insert. What little I did get on my skin was hard to scrub off, too. Not sure this even deserves more than one star. Oh, well...
"
-
Sherwin Williams Emerald - Matte
Sherwin Williams Emerald
★☆☆☆☆
"
Bad coverage and finish. Awful smell that takes FOREVER to go away!
"
emerald matte and satin
★☆☆☆☆
"
What I can usually get done in two days has already taken four. Have NEVER had this problem before in over fifteen years. One room took five coats to get a solid finish.Think I will put painting process on yyoutube and compare to show difference for all the ones who want to say whoever is complaining about this paint does not know how to paint and also for all the ppl who will loose money and buy a poor product. By the way, the home I am painting now is a 1.2 million dollar home, you do not get jobs and steady work like this without being really good and serious about your work.
"
Sherwin Williams Emerald Exterior Gloss
★☆☆☆☆
"
I'm a professional painter and this is by far the worst paint I have ever used. It dried so fast on a not hot and not humid day that we had about 30 seconds open time. Paint dragged and streaked and did not self level at all. Poor coverage. Had sheen mismatch problem. We tried every trick in the book to make this work out and it didn't . Never use this again. Called the store and they said they never heard of problems with this paint...hmmm. There are certainly a lot of people here who do.
"
Emerald
★☆☆☆☆
"
I used Sherwin Williams paint when I rebuilt my house 7 years ago. I have been using pro-classic for trims and duration for walls. We decided to repaint one of the rooms and I was the Emerald is the new product and more superior. I found the coverage is extremely poor. I have to brush all the edging 3 times in order to fully cover. Roller I have to go over twice. This is not a one coat painting. Mind you the original color is a light white and I used the classic Ivory for the new paint. I used Matt finish and the touch is different from Duration. Disappointing.....
"
Sherwin-Williams Emerald
★★★★★
"
From a real pro...I was extremely skeptical when a client requested Emerald by SW. I used interior Matte and Satin....both excellent coverage. Actually surprised me. Have since used in my own home. I have only used exterior Satin Emerald. Colors were bright and still covered in one coat! Again this was on my own house. Don't believe the haters. Emerald is well worth it...as is Benny Moore Aura. Both are great paints.
"
SW emerald
★★★★★
"
I don't get the negative reviews !! It's the best paint I've ever used. It covered very dry new drywall( that had been barely painted poorly once ) in one coat. No running, little odor. Looks gorgeous everywhere in several different shades . My excellent painter recommended it but I am painting until he's awailable.
"
2.2

out of

5

based on

87

reviews.
Overall rating: