Recently I had a small faux finishing job that I thought the Kleen Edge tape would work perfectly for. Many of the houses in my area were not primed when new, and in most cases when regular blue tape is applied to the walls it will pull off the paint.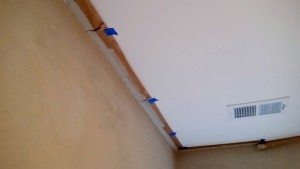 On this particular job I had to tape off the ceiling where it meets the walls. Not an easy area to make a straight line over your head. I used the Kleen Edge tape because it appeared to be stiffer than other tape I've used.
I was right it, was really easy to tape a straight line with the kleen edge. I had to tack it with blue tape to keep the kleen edge from folding over on itself but that was expected.
I ran a mini roller along the Kleen Edge and bumped with a 9inch roller during the paint application process and the tape didn't budge or come down. The only area that started lifting were where I had overlapped but that didn't make a difference because the area I needed protected was.
The tape was on the ceiling for a total of six hours before I was done and it was time to remove it. As I started removing the tape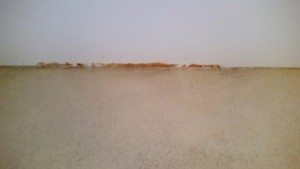 it was looked promising. The line was straight, there was no bleed thru, and it didn't pull the existing paint from the ceiling. About 2 feet in my outlook changed. Instead of pulling the existing paint off the wall the Kleen Edge wouldn't come off the wall.
The tape would rip and leave gummy residue with pieces of paper stuck on the ceiling. No matter how I tried to pull the tape I couldn't stop it. Once the majority was off I had to go around the entire ceiling and scrape it off with a putty knife which left black marks from the blade. Luckily I had the touch up paint and was able to touch the ceiling up, if I didn't I would have had to repaint the entire thing.
All in all the tape did it's job, it applied easily, didn't bleed, and stuck well (maybe too well). I would definitely use it again but on a different surface, definitely not on cheap flat paint.
Ryan Briggs
Owner
Paragon Painting
Editors Note:
Thanks to Trimaco for providing Kleen Edge to our Product Reviewers to test and provide feedback. Find other reviews here.